Party Wear Fancy Dresses, Frocks & Gowns Latest 2018-2019 Collection
Posted by DIKHAWA ONLINE SHOPPING
Women are always interested in fashion. The most prominent thing they are conscious about is the dressing sense. What to wear? What to choose? How could this look? These are the questions every lady think. Women love shopping and buying dresses is one of most preferred task for them. But today's woman is very busy at work, she finds very less time for going outside to buy things, now online shopping is most favored as it involves less time and energy. Today we will talk about the Party Wear Fancy Dresses and  "Party Wear Frocks". Frocks are always the deemed to be the most fascinated topic for ladies around the Asia. Pakistani, Indian, Bengali, Malaysian, in fact, all the ladies from different parts of the world love to wear frocks.
As fashion trends change, the designs and styles of frocks also get changed, sometimes long, wide and often short. Western women including American, Sri Lankan, European wear short length frocks with tights and jeans during the Asian women mostly wear long frock dresses. They are designed according to the need and demand of customers. Formal Party Wear Frocks involves embroidered and well-adorned frocks in chiffon, silk, crinkle fabrics. They are decorated with different embroidery works and designed with patches. Ribbons and laces. Gown style, Umbrella, Fish Tale, Front Open, Double Shirt, Anarkali, Pishwas Frocks are very much popular among Indian and Pakistani women. Many Dress Designers layouts their party and casual wear collections of frocks every year at every occasion. Casual variety includes short mini skirt type frocks, medium length, and short length rocks are chosen by teenage college going western girls.
Party Wear Fancy Dresses, Frocks & Gowns Latest Designs & Styles 2017-2018
Here we are showcasing some of the latest designs of Party Wear Fancy Dresses & Frocks Collection for women. The series includes special designs of formal wear fancy dresses for parties and occasions. They include long Gown Style and Umbrella Frocks for modern day girls who love fashion and glamor. The necklines of these dresses are decorated with glass work, tila, gotta. The front panels and back are adorned with dabka, zari, motif, and sequence work along with perfect tailoring. Color combination is very best and festive to wear. Bright and light colors are contrasted with each other to make eye-catching shades and hues. Colors like black, blue, green, red, orange, peach, white, yellow, pink, etc. are being used.
These dresses are best for your formal wardrobes. Now you don't have t worry abut any coming functions because here we have presented the very fine array of eastern dresses for you. Just have a look at them and get select your favorite piece. You can pair Churidar Pajamas with them along with matching jewelry and dupatta to increase the grace of dress. Be graceful and wear something classic for you that sparkle your personality. Make your parties and events more glowing with these stunning dresses. Have an eye at the below-posted image gallery and get inspired by the latest designs. have a look on the below posted image gallery and get inspired by the latest party wear fancy dresses.
The whole collection is taken from the designers brand JANNAT NAZIR and ZAHRA AHMAD.
Magenta chiffon shirt with jamawar attached undershirt. Hand worked motifs and diamontes on the neckline.
Custom made the white colored gown with hand ruched bodice.
embroidered frock in white combined with purple- the color of royalty.
Peach & white Net fabric gown with chiffon paneled upper, hand embellished back motif and embroidered lace around daaman, diamantes spray all over upper and hand made tassels attached.
black silk gown with draped bodice in chiffon. Paneled net upper with embroidered border and frill around daaman, intricately hand embellished motif set on neckline by Zahra Ahmad.
Pure chiffon beige fully hands embellished mid panel with bead hangings in scallops, fancy side panels and back (patterns may vary). Jamwar pants in contrast color.
Embroidered sequins chiffon paneled outfit with hot pink chiffon draped in front, pearl necklace with the brooch, hand embellished motifs on sleeves.
Shimmery silver grey flared outfit with intricately hand embellished neckline using ferozi resham elements and exquisite silver work.
Mint green chiffon outfit with hand embellished neckline, fancy net side panels, jamawar chatta pati and Indian lace around daaman.
Dotted chiffon short shirt with tilla embroidered neckline and border on velvet base. Paneled upper with embroidered velvet side borders and gold lace around daaman.
Paneled beige stylish outfit with fancy net mid panel with matte sequins work (pattern may vary). Intricately hand worked motifs on the shirt.
Shimmer chiffon frock with black embroidery patch, silver hand embellished motif and beaded motifs on a collar. Chatta patch on sleeves.
light brown color long pishwas with black embroidered collar neckline.
Navy blue long Pathani frock with handmade neckline and multiple laces on daaman and wide bell bottom sleeves.
Red shamoze shirt with embellished motif  &white gold fancy net upper.
Bluish green straight shirt with lace on daaman and hand embellished neckline. Paneled upper and cotton net with cut-work lace around borders and hand made tassels.
Sky blue color churidar frock suit with the velvet jacket.
Fairy tale Shimmer net four layered gown shaded in turquoise, fancy net bodice with matte sequins work and pleated chiffon. Best for fancy party wear dresses.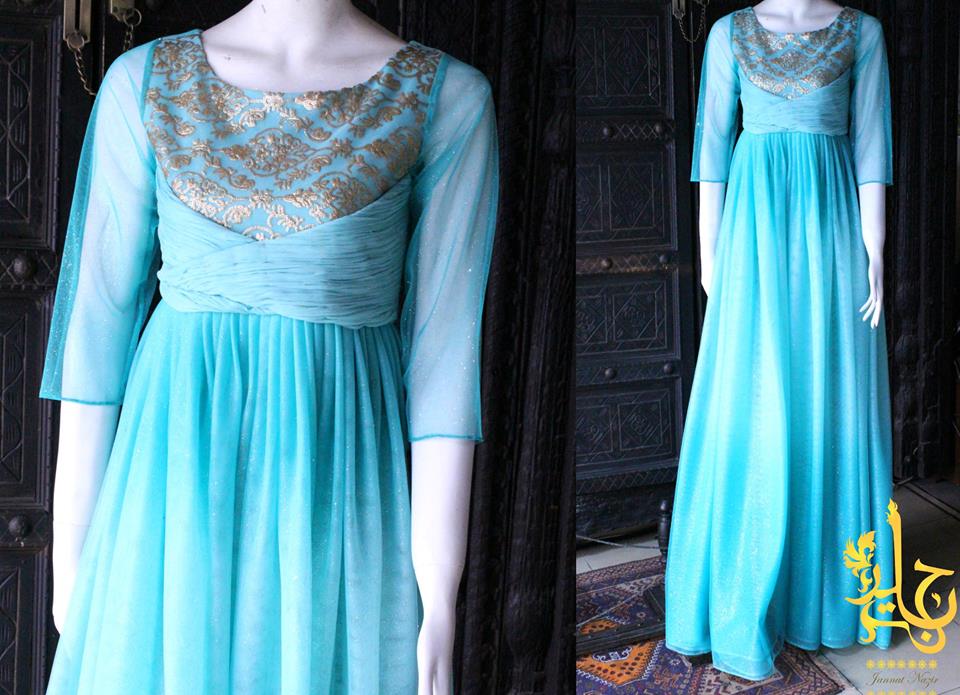 Orange light contrasted simple long frock.
Fancy chiffon paneled frock with silk layered underneath, intricately hand embellished jewel motif on a neckline, hand made tassels and combination of Indian laces around daaman.
Party Wear Straight shirt with intricately handmade embellished front. Fancy net upper with bead hangings.
Party Wear Long jacket style double dress shirt frock in chiffon with a jamavar jacket.
See More As:
Latest Indian Party Wear Anarkali Dresses
Indian Party Wear Churidar Suits Collection
EGO cool designer casual shirts for women
Zahra Ahmed Mystical Printed Shirts
The post Party Wear Fancy Dresses, Frocks & Gowns Latest 2018-2019 Collection appeared first on StylesGap.com.
Collection 2019
Sale 70% Off
Title for image