Metro Shoes Latest Winter Fall Collection for Men & Women 2014-2015
Posted by FAZEELA HUSSAIN
Every season and event bring new things and demands; summer has its demands, autumn furthermore requires warm stuff. In the same clothing and footwear posses a difference, various brands have launched their winter footwear collection. Metro is also one of them; the brand has always been the first choice of ladies. The brand is devoted to shoes and bags. The high quality and unique products of Metro shoes are the reason it is becoming most demanding fashion houses in Pakistan fashion industry. Metro has earned a huge fame in last few years. Metro has its so many branches in various cities of Pakistan, and even more than one store in one city.
Metro has previously launched its amazing summer footwear collection with unique designs of chappal, not unique in designs, but these shoes were way too comfortable too.
This winter Metro has introduced its footwear collection embellished with entire colours like attractive rose colour, lime, Cameron, green, dark purple, peach, blue and many more. This winter footwear collection by Metro has discovered numerous types of shoes that are simply excessively comfortable, warm and soothing. A variety of new style pumps, ballerinas, cowgirl style, and additionally high heel shoes is available in this collection. All the pumps are unbelievable and amazing. Each pair of shoes has its own preeminent and remarkable style & not only for young girls, variety is available for women of all ages. These shoes are very relaxed for feet. For young ladies, modern designs like straps and sole heels are available aligned with various colour contrasts.
Latest Metro Shoes Winter Fall Collection for Men & Women 2014-2015
So, today we are posting a few astounding pictures of Metro winter fall footwear collection 2014-15 but it does not mean that this is all of Metro footwear collection because there are numerous styles and designs introduced by Metro for this winter. They are so satisfying and chic and are easily available on reasonable prices. We have done our part by telling you all the details of this amazing collection. Furthermore, you will get astound and feel inquisitive to wear these comfortable pumps in mind blowing and eye catching colours. The accumulation has been open for beautiful young girls and ladies in all stores of Metro in various cities like Sargodha, Lahore, Karachi, Faisalabad, Islamabad and others. Now, don't miss your chance of making your feet more fragile and beautiful by wearing beautiful shoes. So, get your decision before accumulation draws near. Have a look on these stylish & trendy Designs to get inspired! See More Collections of Footwear for men & Women@ Category Shoes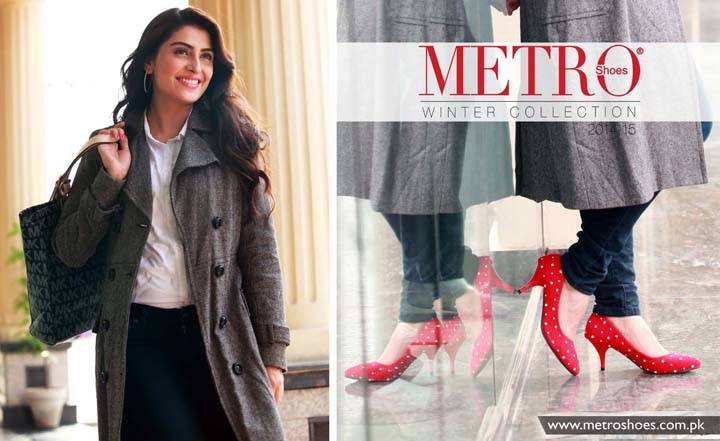 See More As:
Stylo Shoes Cool Footwear Designs Collection for Women
Stylo Shoes Stylish Spring Summer Collection 2014-2015
Fancy Winter Pumps & Shoes Collection  for Pakistani Girls
The Shoe Makers & Co Latest arrivals of Men Footwear & Boots
The post Metro Shoes Latest Winter Fall Collection for Men & Women 2014-2015 appeared first on StylesGap.com.
Collection 2019
Sale 70% Off
Title for image