Latest Pakistani Indian Party Wear Salwar Kameez Collection 2017-2018
Posted by DIKHAWA ONLINE SHOPPING
Salwar kameez is a very popular and elegant trend among Asian people especially people of India, Bangladesh and Pakistan or the past sub-continent prefer to wear this dress more often especially on cultural festivals. There is nothing better for women to wear a nice salwar kameez suit. When it comes to times, any celebrities are seen wearing elegant salwar suits depicting their cultures and traditions that also become an inspiration for young girls and ladies. So, keeping in mind this dominant element of fashion, here today we will discuss some of the latest trends among this popular dress and the way it is worn wore. We are sharing the Latest Pakistani Indian Party Wear Salwar Kameez Collection 2017-2018.
As I mentioned, earlier festivals and parties are the events to represent your true culture & it looks so adorable and elegant to bring out your true colors in front of the world. Keeping the casual and routine one aside, here we will admire the latest trends of party wear salwar kameez collection.
The work of Indian designers is admirable, innovative and stunning in its ways. They have always tried to bring out something new, unique and interesting having the element of traditions in it & no wonder they always got successful in doing so.
Latest Pakistani Indian Party Wear Salwar Kameez Collection 2017-2018
The trend of Patiala salwar kameez, as well as long shirts, is brought forward this time. Let's first debate about Patiala ones. Designers have launched Patiala salwar kameez party wears recently. The shirts are same as of usual kameez, but their length is slightly smaller than other paired with wide ghaira salwar, round from the top and tight at the bottom. Unlike traditional model, a totally new variety is introduced lately with embroideries and embellishments. This party wears features a straight suit starts in the hips and extends till heels.
Other than this kameez is a long top or kurta that is worn over the salwar. Unlike saree, salwar kameez is easy to wear and is usually more comfortable especially for young girls. They look so innocent and pretty with well embellished and designed salwar kameez on parties just similar the ones shown in the images below. To give it a fancier look, designers have made the use of laces, jamawar, embroideries and unique cuts. Some shirts are of angarkha style, some with a straight cut, some with elegant neckline designs and embroideries on sleeves & some of frock style. The color palette according to latest trend has turned the old contrasts and brought out total new color combinations like red & dark gray, Green & dark purple, yellow & dark blue and is many more. I hope these suits will win your hearts at first glance so have a look on these and enjoy your time. Also, they are available at online stores as well in the big stores in the market. Thank you.
Latest Pakistani Indian Party Wear Salwar Kameez Collection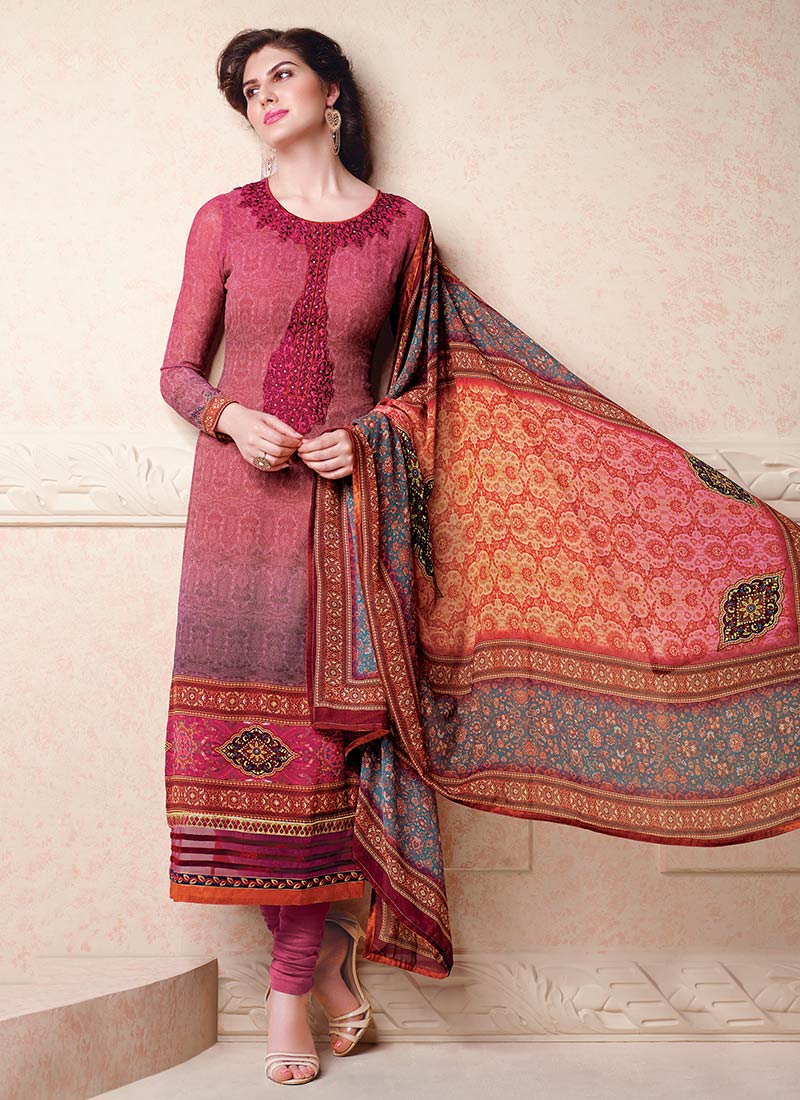 See More As:
Latest Trends of Indian Kalidar Suits Collection:
New Designs of Ladies Churidar Suits Fashion:
Indian Party Wear Anakali Dresses for Girls:
Indian Wedding & party Wear Saree Collection:
Party Jacket Style Anarkali Suit Styles & Designs
The post Latest Pakistani Indian Party Wear Salwar Kameez Collection 2017-2018 appeared first on StylesGap.com.
Collection 2019
Sale 70% Off
Title for image