Latest Designs of Tights, Capri Pants & Leggings Printed Embroidered Collection for Girls
Posted by FAZEELA HUSSAIN
Fashion always take drastic changes suddenly just like the pajamas or plain tights we were used to wearing are now transformed into beautifully printed tights. Sometimes, we think that a west has taken all the choices of dressing like they can wear shorts, skirts, etc. which does not match the South Asian culture of Pakistan. But it doesn't mean at all that we are less sophisticated and mod, we have choices to pair shirts with tights, trousers, capri pants or shalwar. Before some time ago, we saw tights were based on the limited variety but now it is extended to huge styles of embroidered tights, printed jersey tights, colorful net & fishnet tights, chic and glamorous leggings, above ankle stylish Capri Pants. That's why tights have become a popular bottom wear. Today all our discussion will lie on women printed & embroidered tights & leggings latest designs.
Capri Tights is a western sort of bottom wear that is adopted by women all around the world. Young girls can pair up tights with any kind of upper like kameez, shirt, top, sweater, cardigan or tunics. Usually in the summer, people wear tights for fashion but in winter other than fashion tights have a purpose of keeping body warm as an essential bottom wear. This collection consists of new styles & patterns of ladies legwear capri & leggings with amazing color combinations. Some are zig zag, plka dots, linings or striped. Likewise some have beautiful embroidery patterns with tilla work, gotta and many more. Nude Transparent leggings are now a days very popular in west like in America, London, Italy, Australia etc. They are available in different colors with shiny stuff and fabrics. Mostly net is used to made them transparent. In Asian countries like in Pakistan, India, Bangladesh trend of wearing Capri is going to be famous day by day. Scroll down below the most hottest trends!
Latest Styles & Designs of Women Printed Embroidered Tights, Leggings & Capri Collection 2015-2016
What a wonderful opportunity of finding the style and need in the same place, so when you are fulfilling the need then why not make it more stylish and interesting. Here we have the latest printed tights and leggings designs for girls that will spruce up you fashion sense as it features delighting colorful array on silk velvet, leather, jersey, viscose and glittery fabrics.
As designers are always busy in making wonders, so they have used different patterns to ornate the tights in unique style. The cute little floral patterns and various lining designs on leggings look so perfect for the young girls including the teenagers. In this latest collections, embroidery bunches are used on right above the foot hole. So, at the end we came to a conclusion that this latest Women printed & embroidered tights & leggings designs trends collection came with two advantages for girls, first they will get warmth against cold and second cute embellishments help them look stylish and sophisticated. These are washable and available in very reasonable prices. There are both types available the local one and the branded one like Nike, Ralph Lauren, Zara, Armour, Gucci, Khaadi, Gul Ahmed, Chinyere, etc. all are offering beautifully printed trends according to the latest fashion. Have a look on the below posted image gallery and get inspired by the Latest Asian & Western Designs!
Light Embroidered leggings in Grey & Black Color
Floral Printed Women Long Pants
Beige Striped Brwon Leggings with long boots
Above Ankle Leg-wear Capri in small polka dots white & black
Animal Tights from Dolly Dynamite
Blue Velevt & Net Leggings
Polka Dot pattern Leggings in Royal Blue
Brown PlaneLeggings
Grey Plane Pattern
Nude Transparent Tights in Striped & Check style pattern
Nike Designer Leggings & Capri Pants for Girls
Zig Zag Printed Leggings in Dull Brwon
Black & White Magician Inspired Lining pattern Leggings & Pants for women
Beautiful Abstract & Animal Symbol Printed Capri Pants
Abstract Printing on dull black shades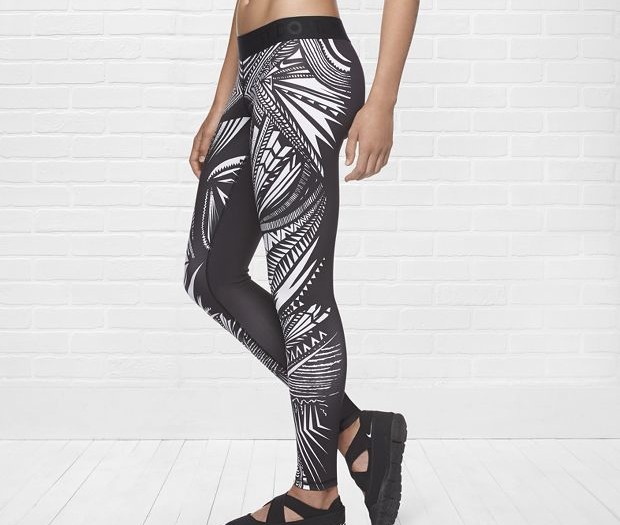 Asian Designs of Eastern Embroidered Tights Collection by Famous Brands
See More As:
Latest Designs of Women Western Style Dresses for Young Girls
Latest Collection Ladies Western Style Palazzo Pant Trends in World
Vera Wang New Bridal Western Dresses Collection 2015
The post Latest Designs of Tights, Capri Pants & Leggings Printed Embroidered Collection for Girls appeared first on StylesGap.com.
Collection 2019
Sale 70% Off
Title for image