House Of Ittehad Royal Embroidered Series Winter Dresses Collection 2014-2015
Hey everyone! Make this winter season trendy, colourful and no doubt delightful with "House of Ittehad", the fashion house which has always being providing us with the amazing of its collections for all seasons and occasions. Few years before we had to face a difficulty of going again and again for shopping when designer wears were not so common but thanks to designers who made it so easy to choose the best of wears in a handy way. Ittehad textile is a well known textile firm of Pakistan. They are working in fashion field from years. The fashion house has launched so many successful collections and gained the best response and customer demand where the collections includes for men clothing, women clothing, fashion accessories and home accessories.
After enjoying the stunning summer collection by the brand we are now looking for the best winter designs. which are no doubt so fully provided by House of ittehad now. Yeah right, winter collections are disclosed with varieties of designs and prints along with the use of best fabric.The latest winter fall collection includes includes khaddar and linen dresses with unique cuts and variation of hues. The fall is totally designed with latest styles.Most dresses are adorned with embroidery and lace work which increases their beauty and elegance. This fall have come up with different categories of collections. The collection includes three pieces and four pieces suits in reasonable prices. Three pieces suits in Rs. 3,295 while that of four pieces suits are about Rs. 3,695.
House Of Ittehad Best Winter Dresses Royal Embroidered Series Fancy Collection for Women 2014-2015
These all collections came with the label of Royal Embroidered series 2014 for women. In this amazing Ittehad textile Fall Winter Collection 2014 Royal Embroidered series 2014 dresses are attractive and stunning embellishments looks amazing and stylish. The use of texture and colours are way too awesome in this collections just according to the amazing season and are suitable for women of all ages starting from young girls to the ladies of slightly older ages. The colours used in this collection are both bright and light like orange, red, fawn, skin, green, blue and so on. This collection is best adjusted for both casual wears and party wears. Fronts and backs of shirts are designed in such a way that neckline designs and plates on the front area and back is plain with border designed at the bottom, arms are designed as full printed or bordered plain. For bottom pants trousers and churidar pajamas are stitched. One can also buy the unstitched dresses so they can organise the design patterns according to their own will and choice. Like if she is some lady of slightly bigger age then instead of pajamas she can easily buy the unstitched one dress and can have the shalwar stitched for her. These collections are as stunning and amazing as one can say, so don't be late for enjoying winter while being dressed in stylish and trendy ways that one can look at you and couldn't stop gazing the dress and look. Here specially for my dear people are some of the designs by Ittehad textile fall/Winter collection 2014 Royal embroidered series 2014 for women.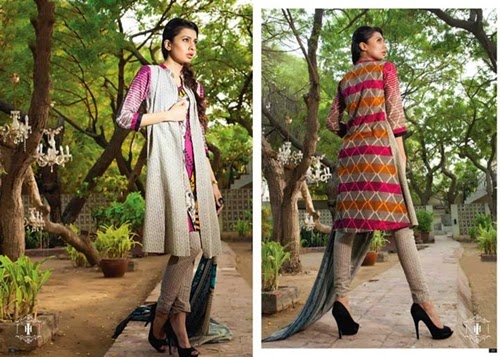 See More As:
Nisha By Nishat Linen winter Fall Collection 2014-2015
Best Party Wear Gowns and Frocks Collection for Women 2014-2015
Latest Perfect Men winter Dresses ollection by popular Pakistani Brands
Latest Winter Fashion Best Dresses for W9omen by famous Pakistani Brands
The post House Of Ittehad Royal Embroidered Series Winter Dresses Collection 2014-2015 appeared first on StylesGap.com.
---
~ Shop by Category ~