EGO Fall Winter Collection Stylish Dress Designs 2015-2016
Posted by FAZEELA HUSSAIN
Don't let the cold beat you when you style up! Come over the fears of winter for your casual and formal walks with another name of snazzy and up-to-minute clothing brand of youthful girls. The name for all the trendy, cozy, and simply amazing clothing; EGO is going to be put into light today. A famous and well-known brand, established in 2006, Ego is being liked nationally and internationally for years. As the years of expertise pass, the brand extended its reach more and more that now it has its outlets nationally in Lahore, Islamabad, Sargodha, Karachi, Sialkot, Multan, Faisalabad, Rawalpindi, Gujrat, and Hyderabad. Making its product available at online stores with free shipping facility for Pakistan; the brand has developed a great trust for its customers. Now, about what ego has got for you this winter? Here is the description for the new assortment it has got for you to look even chicer in this freezing weather.

An ode to refined simplicity is the EGO Fall Winter Collection 2015-16. Amazing ensemble of sweet, simple yet stylish dresses in both formal and casual wear from this collection. Long and short shirts, pants, frocks and tunics featuring fanciful flowery print and accent color-finishing on the fall; fitted bodice and a drop waist skirt cut below the knee; sleek angrakha style dress; dresses with, contemporary geometric patterns in Beige, Black, Brown, Camel, Dull Pink, Green, Grey, Light Grey, Maroon, Mustard, Navy, Off White, Orange, Pink, Purple, Red, Royal Blue, Rust, and Yellow etc. colors are part of this collection.
EGO Fall Winter Dresses Collection 2014-2015 – Latest Stylish & Trendy Dress Designs 2015
While exploring more detail of these dresses you'll find some with bold embroidery and wooden buttons, cowl neck with embossed stripes; some having satin detailing, mesmerizing flowing design with a stitch design and delicate floral embroidery. A few featuring royal gold motifs on the back, front and cuff; many others with pleated shoulder panels, binary motifs rendered in a structured cut-line with accent loops. Looped cuffs; silted band collar; front pockets; svelte band collar with a button patti; checked run-stitch imprints on outfits; and sleek zipper make the dresses adorned in a unique and trendy way that you won't find any other array of  various brands. The price for these style statement forming outfits ranges from 2850 to 4650 PKR. Filled with style simplicity and sweet elegance this assortment is available on all the stores as well as at online EgoStore to drift the world away with the grace and fashion sense of girls of this era. Have a look at the images and find the best for your close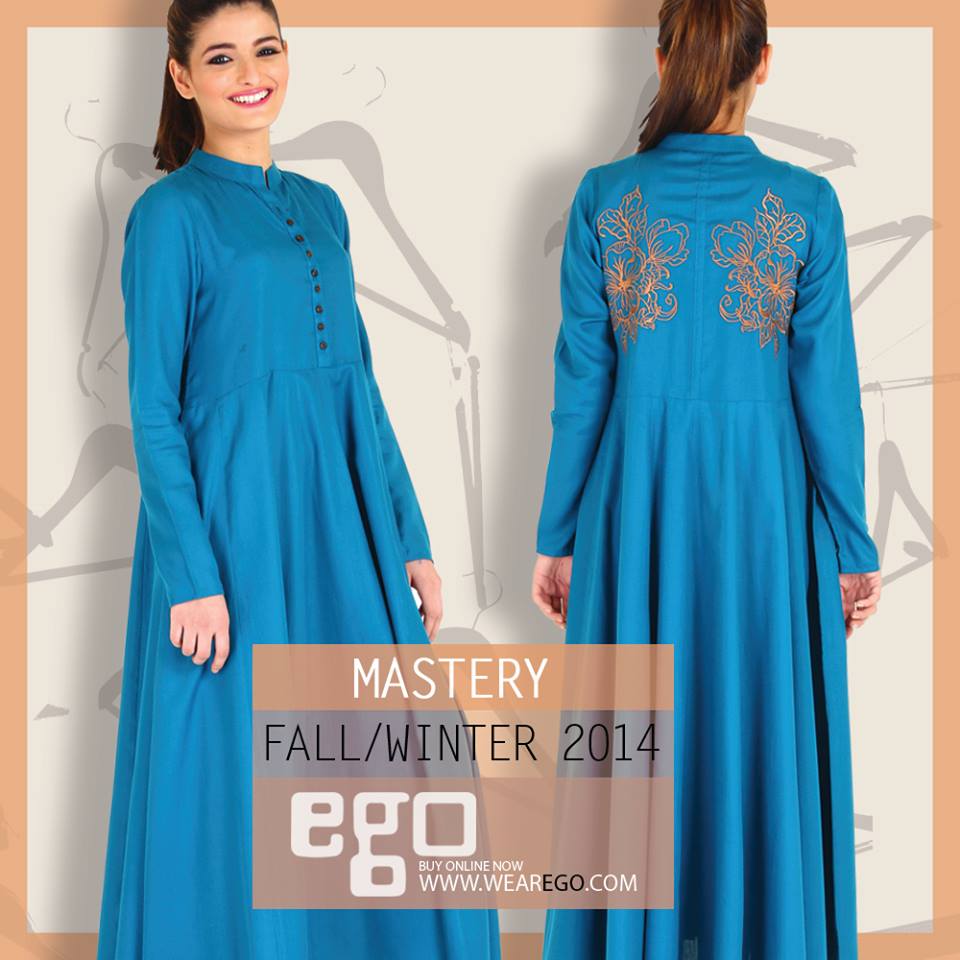 See More As:
Bareeze Fall Winter Dresses Collection 2014-2015
Asim Jofa Embroidered Winter Dresses Designs For Women
Maria. B Latest Bridal Wear & Evening Dress Collection 2015
The post EGO Fall Winter Collection Stylish Dress Designs 2015-2016 appeared first on StylesGap.com.
Collection 2019
Sale 70% Off
Title for image