Product Description
Philips Steam Iron GC-1420-02
EASILY REMOVES CREASES
Continuous steam up to 17 g/min for better crease removal
---
EASY GLIDING ON ALL FABRICS
Non-stick soleplate coating
Specially designed steam holes for best steam flow
---
COMFORTABLE IRONING
Less refilling with large 200 ml water tank
The iron is suitable for use with tap water
---
LONGER LIFETIME
Calc clean to prevent your iron from scale build up
---
FULL CONTROL
Iron temperature-ready light
CONTINUOUS STEAM UP TO 17 G/MIN FOR BETTER CREASE REMOVAL
Continuous steam up to 17 g/min for better crease removal.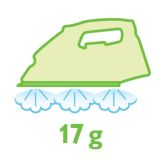 NON-STICK SOLEPLATE COATING
The soleplate of your Philips iron is coated with a special non-stick layer for good gliding performance on all fabrics.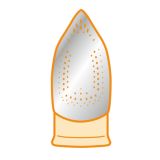 CALC CLEAN TO PREVENT YOUR IRON FROM SCALE BUILD UP
The calc clean function enables you to simply flush your Philips iron to remove the calc particles out of your iron. This will extend the lifetime of your iron.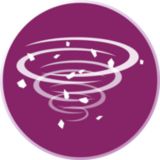 IRON TEMPERATURE-READY LIGHT
Indicator light goes off when the required ironing temperature has been reached.
SPECIALLY DESIGNED STEAM HOLES FOR BEST STEAM FLOW
The specially designed steam hole pattern ensures the best steam flow, removing creases most efficiently.